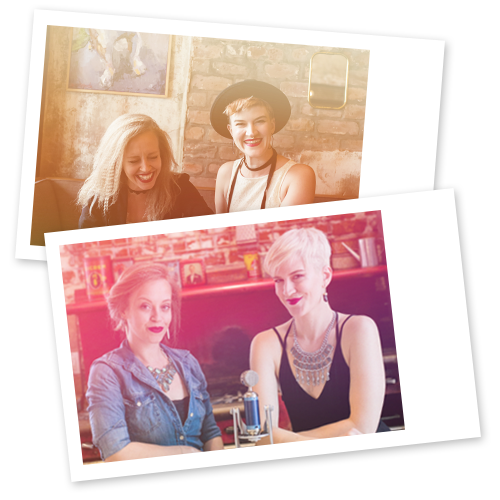 So if you're struggling to make time to build the job and business of your dreams, it's time for you to take action.
Emily and Kathleen here, from Being Boss, and you can trust that we know a thing or two about Getting It All Done.
- We each have families.
- We each live thriving and full lives.
- And we each run profitable businesses, as well as the business we run together.
So when we say that you can get it all done, and plan for your future in the process, we hope you'll take our word for it, and let us help you make it do.
A CEO Day is a day where you take off all the hats that you wear as a small business owner except for one, your CEO hat. You shut down your inbox (take off your Customer Service hat), close your social media (take off your Marketer hat), and put down your tools (take off your Creative/Technician/Service Provider hat), and you look at your business.
You set goals, make plans, and plot action. You focus on where your business has been, where it is now, and what you need to do next to continue building the business you're here to build.
When you're done, you take the rest of the day off. Because you're the boss.
Because we want to help you make time for your business. Not a ton; just enough. We're here to give you the permission (as if you need it), the structure, and the tools to set aside time for what matters: the business you're trying to build, the one that's paying your bills and fulfilling your passion.
Because we want to help you take the right steps. It's not about getting fancy, doing anything complicated, or even spending a lot of money. It's just about diving into your business and taking discerning action.
Because we know this works. Because we've been doing this for years. These are the exact same steps that we take in our own businesses every single year to reflect, settle in, and plan for the year ahead. And some of these tools show up in our business even more frequently than that. The point is: you're getting exactly what we do and use. Because we want you to find success, too.

FIRST: Mark off a day on your calendar. No meetings, no tasks; nothing.
SECOND: Prepare your materials. Scroll down to purchase our CEO Day Kit. We'll let you know what you need to prepare!
THIRD: Show up and do the work.
FOURTH: Take the rest of the day off. A CEO perk!